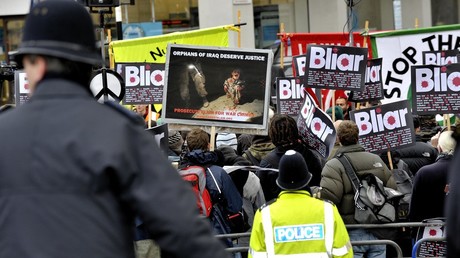 The families of soldiers killed in the Iraq war will end their fight to have Tony Blair and other officials tried for war crimes after finding the former prime minister and his allies are More...
GOOGLE pushed-out its latest operating system update – Android 8.0 Oreo – to coincide with the total solar eclipse on August 21st. But three months later, and millions are More...
APPLE appears to be struggling to keep-up with demand for its next-generation wireless Bluetooth headphones, AirPods, as stock levels dwindle across the UK one week before Christmas More...
BRITISH queuing software firm Qudini is betting on the success of the high street after doubling revenues amid growing demand More...
DIXONS Carphone released half-year results on Wednesday. Daily Express :: Finance Feed More...
STAR WARS 8 The Last Jedi has hit cinemas and now a brand new More...
A FORMER M15 Intelligence Officer said that EU new rules to curb Bitcoin anonymity are simply an attempt to More...
China has successfully completed its fifth round of yuan-backed oil futures testing may officially begin the contract by the end of..
The House of Saud has started a survey for uranium and thorium resources, according to a report by Argaam, a Saudi..
SLEEP can be difficult to achieve during the Christmas period. Make these four changes to your diet to aid More...
Cancer risk may be increased by sleeping with your mobile phone next to your head, or in your bed, experts warn...
TYPE 2 diabetes sufferer Tracey Hoff ballooned to 17st 7lb by feasting on gourmet sandwiches in her work canteen – but..
FOR HONOR update 1.17 is out now on PS4 and Xbox One, ahead of the new Frost Wind Festival event. Daily..
GOOGLE MAPS has captured a very confusing car crash in Ghana. Daily Express :: Travel Feed..
STAR WARS 8 The Last Jedi director and writer Rian Johnson has revealed the reason for that controversial Snoke scene. Daily..
UNLESS you've been living on Jupiter these past few years the massive popularity of crossovers in all their shapes and sizes..
JOE MCFADDEN won Strictly Come Dancing on Saturday night and is already being tipped to return to the show, but in..